International Business Dual Degree Expands, Participation Exceeds Previous Record
This fall, Poole College welcomed 13 freshmen who are starting a course of study that will yield two degrees from two universities — NC State and one of Poole College's global business school partners in the International Business Dual Degree (IBDD) program.
In addition, 16 international exchange students came to Poole College, starting the two-year, study abroad portion of their IBDD program that they began at their home universities. Students begin the program with two years at their home universities, then complete the final two years at the IBDD partner school, based on the language track they select.
With the addition of these students, the total IBDD enrollment currently sits at 59, the largest total enrollment for the program since it began in Fall 2011, said Rob Sandruck, director of global programs at Poole College.
"The program continues to grow, especially with the addition of two new language tracks in Spanish and Mandarin," Sandruck said. "Also, as more high school students in North Carolina hear about the program, they are selecting NC State and the IBDD program as their top choice for college."
Daniel Andersen, one of NC State Poole College's recently admitted first year students, was among those drawn to the IBDD program. "I received an email about the IBDD program when I was accepted into NC State," he said. "I actually chose NC State over other colleges specifically for this program. Spanish was the most organic path for me because my family is from Venezuela, so I grew up speaking both English and Spanish."
The IBDD program is offered through the NC State Poole College of Management in partnership with business schools in China, France, Spain, Italy and Germany, and provides a pathway to international business knowledge and experience for participating students. Students complement their business studies with foreign language fluency, become immersed in a different culture, and gain international business work experience through two internships with multinational companies, such as Chanel and Mercedes-Benz.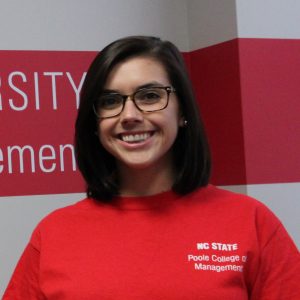 Emma Coggins, another recently admitted first-year student, says that "the IBDD program presents each of us with opportunities that no other student has the chance to experience. I chose (IBDD) because I look forward to having a traveling career where I can use my culture and language knowledge to connect different nations." Emma was introduced to the IBDD by Sandruck after she filled out an interest form located on Poole College's website.
Before they venture into the world, NC State IBDD students take courses in an accelerated undergraduate business curriculum and complete advanced study of their chosen language through NC State's Department of Foreign Languages and Literatures.
Anna Zhao, a current IBDD Poole College sophomore, says that she has taken courses in advanced Chinese, accounting, and economics that have prepared her to study in Shanghai, China for the next two years. Speaking about her future, Zhao says that "this experience will give me knowledge about how China does business and will help me gain fluency in the Chinese language." After college, Anna hopes to pursue an international career linking businesses in China and the United States.
Uniting the world through business is a common goal for students seeking the International Dual Business Degree. Elizabeth Fisher, a current IBDD student and sophomore at NC State, grew up with a strong interest in German language and culture, and was excited to discover the IBDD program at Poole College. She explained that, "While I am still deciding on a concentration, working in business – and with German business – is something that I've always wanted to do. I really enjoy the culture and the different approach they take to life, work and free time, and I hope to work in a job where German and American cultures intertwine. I also enjoy the way Germany approaches education and I know that an (IBDD) will expand my viewpoints and understanding of both my concentration and overall major."
Some IBDD students also recognize that international experience can be of essential use in specific industries. "I have always been the one to get out of my comfort zone and try new things, and (IBDD) was the perfect way to do that," Andersen said, adding that he hopes to work in the fashion industry, or "something a little more unorthodox," and sees the opportunity to work in Spain as a unique competitive advantage. Commenting on the program's administration, Anderson notes that his courses were tailored to his personal goals by the "amazing mentors and staff through the program." He said he plans to study abroad at the ICADE Pontificia Comillas, a private business school in Madrid and IBDD partner university.
About the IBBD program
The IBBD program is offered through Poole College's membership in the International Partnership of Business Schools, an international consortium of 12 business schools located in Europe, Asia, Latin America and the United States. Other options available to Poole College undergraduate students seeking to incorporate a global perspective into their studies include the Hamilton Scholars program (offered jointly with NC State's College of Humanities and Social Sciences) and summer, semester, and year-long study abroad programs in over 200 countries that provide students the opportunity to learn about international cultures and how business is conducted around the world. Students also can join in various n-campus engagement opportunities, including taking internationally focused courses, joining the International Business Club, and mentoring exchange students.
View additional information about global opportunities here.
Read what Poole College and other students living in NC State's Global Village say about their experiences.