Students and Alumni
Poole College Celebrates the Graduates of the Fall Class of 2022
Meet some of our graduating students across undergraduate and graduate programs.
On Dec. 17, 422 undergraduate degree and 140 graduate degree recipients will share the stage at PNC Arena for the Poole College of Management commencement ceremony.
"Warm congratulations to our fall graduates, their families and significant others," said Frank Buckless, Stephen P. Zelnak Jr. Dean. "I know this is a big day for all of you––a moment for you to celebrate your hard work and achievements and a time for you to look with excitement toward your future, whether that's the beginning of a promising career, additional education, or adventures that take you to locations near and far."
Graduates by the Numbers
422 Undergraduate Programs Graduates
Economics Graduate Programs
Doctor of Philosophy in Economics: 8
Master of Science in Economics: 1
Master of Economics: 8
102 Jenkins MBA Graduates
19 Jenkins Master of Accounting Graduates
2 Inaugural Master of Management, Marketing Analytics Graduates
Meet Our Graduates
Jordyn Umstead, business administration, information technology
During her time at Poole College, Jordyn Umstead was dedicated to her academic studies as she planned on a future career in information technology (IT). She will be graduating with a Bachelor of Science in business administration with a concentration in IT.
"Being a Poole Ambassador was definitely a highlight of my experience here," said Umstead. "Sharing my story with future Wolfpack leaders was always so fun."
Umstead was a member of multiple student organizations and loved the semesterly Poole Party as it gave her an opportunity to socialize with other organizations' members.
Garrett Lovejoy, Jenkins MBA Online Program
Garrett Lovejoy maintained a full-time job, family life and the online Jenkins MBA Program while still finding time for a couple of tennis games each week. Lovejoy's academic journey allowed him to quickly apply the learning from his classes to real-world problems at work.
"This made me more effective and a better teammate," said Lovejoy. "I did not have to finish the program to start making an impact."
The leadership in-person classes were a memorable part of Lovejoy's Poole experience. Being able to interact with faculty who were experts in their field showed him the quality of the program.
"Business education is a career long endeavor," said Lovejoy. "As people and the world change we need to be nimble as leaders and be willing to change ourselves."
Following commencement, Lovejoy will continue to work with the ASSA ABLOY Group, a security solutions manufacturing company, where he has recently been promoted.
Sonia Dubiansky, business administration, human resources
Sonia Dubiansky balanced her classes, three internships, Poole Peer Leaders and being a member of the NC State Chorale Choir during her time at Poole College. She will be graduating with a Bachelor of Science in business administration with a concentration in human resources.
Dubiansky's most memorable Poole experiences include the Poole Party and participating in the human resources practicum course led by Patrick Flynn, assistant professor of human resource management.
"This class introduced me to analytics and allowed me to learn skills that were critical for my success at work and other Poole classes," said Dubiansky. "Professor Flynn also has a refreshing method to teaching where he encourages open conversation and critical thinking to solve open ended problems."
Following graduation, Dubiansky will be working at Fidelity Investments in their rotational human resources internship program.
Imran Chiosa, Master of Economics
Being mentored by award-winning and distinguished professors was the highlight of Imran Chiosa's experience in the Master of Economics Program at Poole College. Chiosa will be earning his master's degree with concentrations in applied econometrics and international economics.
Chiosa enjoyed the social gatherings organized by The Economics Graduate Student Association as well as spending time working in Professor Barry Goodwin's suite.
"I learned a lot about writing a research paper when I was working in his office," said Chiosa. "He introduced me to a number of great professors in the department and also he sponsored me to travel to California for an Agriculture and Applied Economics Association annual conference in the summer where I had an opportunity to meet and learn from more than 1,000 other economists. I just hope to continue learning a lot from him."
Chiosa plans to further his studies, however, in the meantime, he will be returning to Malawi to continue working at the National Statistics Office.
"With applied econometrics and macro as well as microeconomics classes, I think I would be a great asset at my workplace than before," said Chiosa.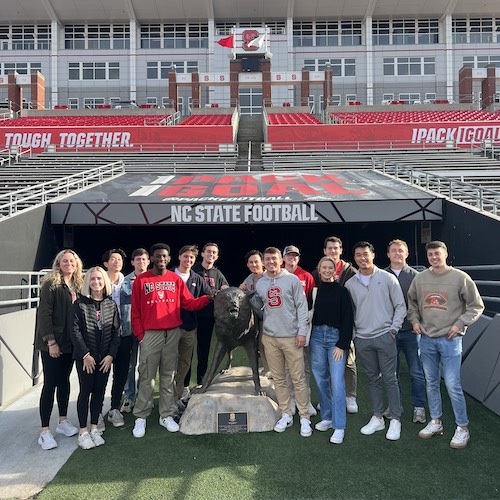 Brandon Morton, accounting, information systems
Brandon Morton represented Poole College in the classroom and to current and prospective students as a Poole Student Ambassador during his time at NC State. Morton will be graduating with a Bachelor of Science in accounting with a concentration in information systems this fall.
Morton's ACC 210, Concepts of Financial Reporting, class opened his eyes to how much he enjoyed accounting and eventually pursued it as his major.
"Being a Poole College student is more than just showing up to class," said Morton. "I took away how many things outside of the classroom have had a major impact on my experience."
Morton will be continuing his education as he has been accepted into the Jenkins MAC Program at and will begin in fall 2023. This spring, he will be interning with Deloitte in their Raleigh office in their audit practice.
Page Ballenger, Master of Management, Marketing Analytics
Page Ballenger is one of the members of the inaugural graduating class of the Master of Management, Marketing Analytics (MMA) Program. He walks away feeling proud of his newfound knowledge, the speed of which he completed the program and the new job the program led him to.
Ballenger enjoyed the networking aspect of the MMA Program events as well as meet and greet events with fellow classmates. He focused his time on academics and applying his new skills to his professional life.
"Donnie Hale, teaching assistant professor, impacted my learning the most," said Ballenger. "I really appreciate his teaching style, and his classes zeroed in on exactly what I was here to learn."
Ballenger started a new role as a multi-channel marketing analytical optimization manager at ViiV Healthcare on Nov. 1 and plans to continue to make an impact there and grow his career as part of the digital acceleration team.
"I feel like the program and the instructors teaching in it act as a Sherpa that guides a learner to the most relevant content and assists in connecting it all together," said Ballenger. "I didn't realize how beneficial this is until I was immersed in the coursework, but it's so valuable."
Adrian Harris, Jenkins MBA Program
Crossing the stage at PNC Arena, Adrian Harris will be taking academics, relationships, management tools and professionalism as he graduates from the Jenkins MBA Program. In addition to his MBA, Harris also earned business leadership and marketing certificates from Poole College.
While Harris, of course, focused on academics he also found the Jenkins MBA socials to be fulfilling as it gave him and opportunity to discuss professional and personal experiences with his classmates.
"The Jenkins MBA Raleigh Residency was an amazing three-day event to attend with some of my peers that I networked and built lasting relationships with," said Harris.
While many Poole professors left a lasting impact, Harris credits MBA 580, Creating Value in Organizations, with Chris Hitch, adjunct lecturer, for the hands-on learning that will travel with him throughout his career.