Organizational Excellence
Outside the Office: Faculty and Staff New Beginnings
We asked our faculty and staff what they were doing outside of work since the start of the pandemic. 
Explore the exciting ways our community spent their time in the last year and a half, from adopting puppies and getting married to learning new hobbies and becoming a certified yoga instructor.
Frank Buckless, Stephen P. Zelnak Jr. Dean
Dean Frank Buckless was able to cross "learning piano" off of his bucket list during the pandemic. Buckless fondly remembers his mother playing the piano during the holidays and wanted to recreate those memories for his family.
To remain safe during the pandemic, Buckless chose to teach himself through books, online videos and, eventually, with the app SimplyPiano. He tries to play for at least 10 minutes a day as repetition is important to improve your skill level.
"Trying to learn from a book was very frustrating for me and as with most things that are worth it you need to persevere through the tough challenges," said Buckless. "So I told myself I would keep trying different approaches until I find something that works and fortunately it only took me about a month to find an approach I finally felt that was helping me to make progress."
The first song Buckless was able to learn was Jingle Bells and has since expanded his song library to Twinkle Twinkle (my granddaughter loves), Don't Stop Believin', Stairway to Heaven, Roar, You Say, Knocking on Heaven's Door, Dust in the Wind, and Eye of the Tiger.
Maggie Merry, Assistant Dean of Finance and Administration
Maggie Merry had been planning on getting a new dog for a while when she decided to get her Cavalier King Charles Spaniel puppy, Kiera. Kiera spends most of her days snuggling and annoying her older brother Oliver who is four years old.
"Puppies require a lot of attention at first," said Merry. "You have to teach them all about everything. Kiera's first big lesson was crate training so that she had a safe place to be when we were working. "
Kiera has been doing a great job with her training and Merry has discovered how smart she can been when she escaped from her crate and locked Oliver inside instead.
Jacob Diehl, Digital Producer
Weddings were among many things that had to be postponed during the pandemic but many were able to have small, intimate ceremonies. Jacob Diehl and his fiancé, Mary Beth, did just that when they learned their May 2020 wedding would have to be rescheduled – twice!
After a long, stressful process, the Diehls were married in September 2020 and were able to celebrate with a substitute honeymoon trip to Sedona and Tucson where they spent plenty of time hiking and enjoying the beautiful sunsets.
"We are still having our big wedding with friends and family in August, finally," said Diehl. "As my wife says, we got married but now we get to have our wedding. We can't wait!"
Bob Clark, Professor of Economics
Bob Clark lives and works in the Triangle, but spent much of his time at his second home in Jackson Hole, Wyoming. On top of this, Clark volunteered for the past seven years with the National Park Service to help with the Grand Tetons National Park.
Clark is a member of the Wildlife Brigade, a group of individuals whose job is to protect both the wildlife and the people. Clark and the brigade's main goal is to manage grizzly bears who often forage near the roads.
"The parks belong to all of us and we should all help to keep them safe from overuse, try to prevent people from destroying the resource, and maintain a safe haven for bears, moose, elk, deer, pronghorns, wolves," said Clark.
Clark recommends looking up the park's most famous bear, Grizzly 399. You can find numerous pictures of her and her four cubs that are now two years old.
Richard Warr, Associate Dean of Faculty and Research
Outside of Nelson Hall, Richard Warr has been finding relaxation through yoga for the past 10 years. A few years ago, Warr decided to complete a 200-hour yoga teacher training from Blue Lotus, one of the most respected and longest running studios in Raleigh, and the fall of 2020 became the perfect time to finish the training.
Warr and his wife were among the 14 students completing the nine-month program where they met virtually at night and for an entire weekend once a month. He is now teaching yoga on the weekends to his neighbors and has plans for more teaching in the future.
"That's why I do yoga – it brings peace and calmness," said Warr. "You don't need to be super flexible (I'm not), you just need to be willing to move carefully with your breath, and a few minutes a day is all it takes."
Carson Powell, Marketing and Communications Manager
Carson Powell and her fiancé, Nick, were already dog parents to their one-year-old Pit/Akita mix, Rey, when they decided to adopt their puppy, Goose, from Saving Grace, a rescue group in Wake Forest. Powell knew quarantine wouldn't last forever and thought it would be the best time to get a three-month-old puppy. Little did she know most COVID puppies developed separation anxiety from their families being home all day.
"Goose is the biggest mama's boy on the planet," said Powell. "Wherever I go, he goes without fail. He loves having all the attention on him and to show you how much he loves you by crawling into your lap."
Goose and Rey have become best friends spending every waking moment playing and cuddling together. Goose also became the best travel companion with multiple trips to their family home in Hilton Head Island, South Carolina.
Robert Sandruck, Director of Global Programs
While many tried new things during quarantine, Robert Sandruck became his neighborhood bread maker by learning how to bake sourdough bread. He is still going strong with his starter, a fermented dough filled with natural, wild yeast and a bacteria called lactobacilli.
Sandruck and his newfound baking skills started hosting Zoom-based cooking classes with his colleagues in the Office of Undergraduate Programs, Executive Education's Women in Tech and with student organizations like the American Marketing Association.
Michael Dixon, Associate Director of Admissions and Recruitment, Jenkins MBA
Michael Dixon made the leap from New York City to Raleigh in October 2020 to accept his position as the associate director of admissions and recruitment for the Jenkins MBA Program. Since then, Dixon has assimilated to North Carolina life and has even taken the NC State Personal Trainer Certification course and passed the National Association of Sports Medicine Personal Trainer Certification Exam in April 2021.
On top of all of this, Dixon is now pursuing a Ph.D. in higher education leadership, policy, and human development at NC State's College of Education.
"During the Ph.D. program I hope to explore equity and access in higher education in India," said Dixon. "I did a research study during my master's program at New York University where I traveled to Trivandrum, Kochi, Mumbai and Delhi India to conduct qualitative interviews of higher education leaders, students, staff and professors and learned about the caste system, implications of expansion of higher education, and diversity and inclusion in the Indian classroom."
Jessica Yinka Thomas, Director of Business Sustainability Collaborative
To stay active while working from home, Jessica Yinka Thomas began regularly riding her bike on the American Tobacco Trail, a 22.6-mile trail through Research Triangle Park. Thomas hops on the trail by the Durham Bulls Stadium and will sometimes make it down to Southpoint Mall and back.
"I started practicing balancing my bike and riding with no hands," said Thomas. "I can go over a mile now and usually only have to hold onto the handlebar when I hit an intersection or a bridge. More recently, I've been working on a standing dismount."
The part of the trail Thomas likes to ride through goes through many neighborhoods in Durham and is almost entirely covered by foliage which keeps it manageable on those hot North Carolina days. It also makes for a beautiful ride.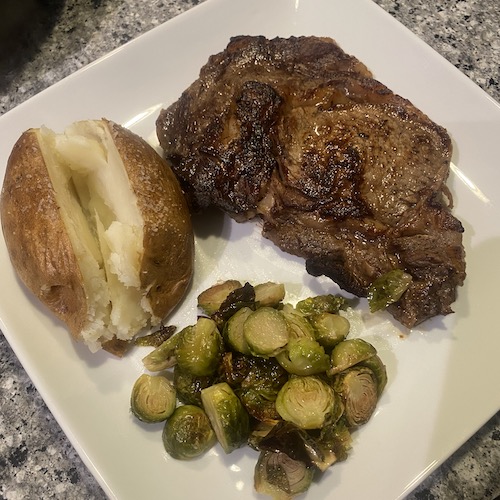 Brian Clark, Executive Director of Development and External Relations
When all of the restaurants and fast-food chains began to close in March 2020, Brian Clark took the initiative to learn how to cook more for him and his family. Clark enjoys exploring new flavors and recipes, his favorite being steak and brussel sprouts.
"Cooking is an adventure that doesn't have a lot of limitations," said Clark. "I'm not formally taught so the process of learning new flavors, seasonings, and dishes was overwhelming."
Steve Barr, Professor of Technology Management
Steve Barr has lost 54 pounds between March 2020 and November 2020 through dieting and working out. Barr's strict regiment included no added sugar, no chips or crackers, no alcohol or carbonated beverages, and limited fried foods.
"The good news for everyone is if I can do this at 68 years old then anyone can," said Barr. "I have taken six and a half inches off of my waist and earned a 'one pack'."
Barr's tip for anyone wanting to crack down on a diet is to keep none of the banned foods in your house as it will only cause temptation.
Rob Handfield, Professor of Operations and Supply Chain Management
Rob Handfield spent his time at home being active through swimming, running on trails and riding his bike. Handfield has been addicted to running since he was 14 years old when he joined his high school cross-country team and now runs four times a week.
"During the pandemic, I had a regular route which followed a trail along a salt marsh, and often saw a lot of wildlife along the way," said Handfield. "It was my way to relax after all of the stressful Zoom calls I was involved in every day!"
Handfield also took advantage of his local community pool that is a saltwater pool surrounded by trees.