Jenkins MAC Program Honors Alumnus and Donors at 2nd Annual Celebration
On November 12, during its Celebration Reception, the Jenkins MAC Program at the Poole College of Management recognized three exceptional individuals who have made significant and ongoing contributions to the program . Typically held at Vaughn Towers in Carter Finley Stadium, the year's event was held virtually.
John McKeever CPA '05, corporate controller at Direct ChassisLink, Inc. (DCLI), was honored as the program's Distinguished MAC Alumni. "John has been a great advocate for the MAC Program since graduating. Recently he emailed me to follow up on a student that he had mentored that was applying to the program. He helped him prepare for the interview and was invested in his success," says Andrea Young, associate director of marketing for Jenkins Graduate Programs. "This is the kind of person John is. I talk to many PwC alumni and they always speak well of John. He is hardworking, caring and willing to give back as much as he can."
This year, the program also recognized Mike and Lori Constantino as the first recipients of its newest award – Distinguished Friend of the MAC Program, which honors individuals who support the program with their time, talents and financial contributions. Mike, a retired partner at EY, and Lori both graduated from NC State in 1984.
"Mike and Lori established the Michael and Lori Constantino Endowment Fund that provides fellowship awards to Jenkins MAC students. Mike also was integral to helping win support for the MAC program from the Ernst & Young Foundation's University Fund Grant program," says Bruce Branson, accounting professor at Poole College. "Mike is a passionate supporter and cheerleader for the MAC Program, and it's difficult to think of anyone more deserving of this award than Mike and Lori."
Let's get to know this year's awardees…
John McKeever '05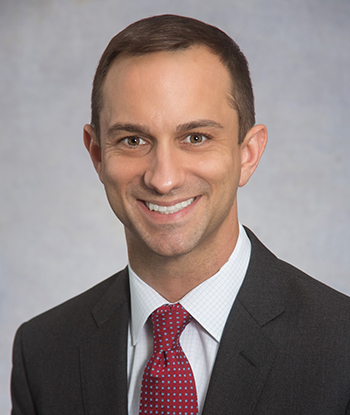 Tell us about your current occupation.
I'm currently vice president, corporate controller at Direct ChassisLink, Inc. (or DCLI).  We own approximately 242,000 chassis, which we lease to various steamship lines and railroads to move large cargo containers within the United States. As corporate controller, I oversee the day-to-day accounting, monthly and quarterly reporting, internal audits, technical accounting, income taxes and other areas within shared services. My department also handles various one-off transactions such as business combinations, cash flow hedges, debt structuring and process improvement, specifically related to process automation.  
What drew you to the field of accounting?
I have to go back to my father, Jay McKeever, who was a CPA and used to work for Ernst and Ernst. I wasn't exactly sure if accounting was what I wanted to do professionally, but once I got to NC State, I quickly realized it came naturally to me which required less studying. So maybe I was just lazy! All joking aside, I really enjoyed accounting and thought of it more of a science or process, which allowed me to think my way through problems versus having to memorize questions and answers.
How have you seen the profession grow or change over the years?
While the profession has certainly changed throughout my career, the biggest change that comes to mind is most recent, which is in the field of process automation and the use of certain technologies. While at PwC, which I left in August 2019, we had pushed the use of technology in the audit for the prior three to four years. At first, it seemed like a lofty goal to learn to leverage certain tools such as Tableau, Alteryx and UiPath, but once we saw it in action, it changed the game. For example, we had an associate who created a bot that took invoices in PDF and extracted key data for our audits such as customer name/number, invoice number, quantity, product, price, etc. What would take an associate an hour or two was completed in 10 seconds and was reliable! And his background was accounting, not IT or programming. I really caught the "automation bug" and realized that it's here to stay. While I wasn't around when Microsoft Excel was first introduced, I have a feeling it was received (originally) in the same way. No one trusted it and didn't want to change. Today we can't do anything without Excel, and I think in the near future, it will be the same with process automation. I'm just doing my best to keep up with it and continue to think outside the box when it comes to process improvement.
What memories do you have as a student at NC State?
I will never forget the football games. Regardless of the outcome, I always enjoyed tailgating and the excitement that comes with college football. Regarding the College of Management, I'll never forget the faculty that really made a difference in my career. The faculty cared, they were engaged and they had an overall excitement for business and accounting, and that excitement was contagious. Once I was there for two to three years, I realized that I had made a great decision to go to NC State, but an even better decision to be part of the College of Management. My friends in other colleges at NC State did not have the same experience, which I think speaks highly of the program we have!
How do you stay involved with Poole College and the MAC program today, and why is that important to you?
The primary way I've stayed involved through the years was through recruiting for PwC. I absolutely loved the chance to get back to NC State, to speak at Beta Alpha Psi, pre-night socials and then on-campus and in-office interviews. I liked being able to leverage my position at the firm to provide great opportunities for students at NC State. Maybe I am biased, but I found that our students continued to do just as well as others or often outperformed other schools in North Carolina. That often translated into various mentorship roles, regardless of whether they joined PwC. To this day, I'm still in touch with many former students who have now done very well for themselves out in industry.
What have been some of the highlights of your career so far?
I spent close to 15 years at PwC, and it provided a host of experiences, including travels to Australia, Singapore, Japan and Europe. However, one of the highlights of my career was spending two years in the firm's national office. I was in the technical accounting group, where we focused on issues specific to business combinations, impairments, equity method and fixed-asset accounting. It was such a unique experience where the firm covered housing in New York City, and you got to really go deep in those technical areas. The reason you're in the national office is because the questions don't always have the black-and-white answer, so it really helped me think through accounting issues and how to resolve them. I will always value those two years in the national office.
When you're not working, what activities do you enjoy doing?
While not at work, I'm usually tied to some sort of house project, which I do enjoy. We built a house, which was completed in 2019, and now we enjoy spending time in it and working on it – adding our own touch! In addition, I enjoy spending time with family, friends, time on the water – I still like to water ski every now and then – and enjoying new restaurants in Charlotte.
What advice do you have for Poole's current MAC students?
I have always told students that the key to excelling right after school comes down to attitude. You have graduated from NC State, you have done well, you have a job, and now you are starting your career. Everyone knows you are smart and capable, so attitude will go a long way. The key is being "open" and having the roll-up-the-sleeves attitude. If you're willing to help, no matter what the task, managers will gravitate towards you and will want you on their team.
Mike and Lori Constantino '84
Tell us a bit about your background.
Lori is from Kannapolis and is a lifelong NC State fan. Her dad graduated from State with a degree in textiles. Mike is from Raleigh and graduated from Clayton High School. He is also a lifelong State fan. His mother graduated from State with a degree in English and a master's in adult education. We were both charter members of the Alpha Kappa Psi professional business fraternity chapter that was formed at NCSU in 1983. We met through AKPsi.
What are some favorite memories you have from your time at NC State?
Mike: The 1983 ACC Tournament and National Championship men's basketball season, basketball games at Reynold's Coliseum, Mitch's Tavern on Thursday nights after AKPsi meetings and happy hour at Rathskeller on Hillsborough Street with classmates and accounting faculty.
Lori: Living on campus was a gift – from living in Carroll Dorm for two years with no AC to moving into South Hall my senior year with AC and cable tv! Also attending athletic events – football, basketball, soccer, swimming and baseball. Being in school during the basketball championship was once in a lifetime experience! I watched the championship at Mitch's Tavern and celebrated on Hillsborough Street. I was involved with AKPsi, where I met Mike and I have lots of fond memories from meetings and social events on and off-campus. I went to Oxford, England, in July 1983 with a group from NC State and other NC colleges. It was my first trip to Europe and formed an early love for travel and seeing other parts of the world.
Mike, what drew you to the field of accounting?
I actually started in the School of Forestry as a freshman and majored in parks and recreation management. I decided after one year my career opportunities would be better with a business background. I took a bookkeeping course during my senior year in high school. Once I changed majors, accounting became the logical course as I already understood debits and credits.
How have you seen the profession grow or change over the years?
When I started at EY, all workpapers were prepared manually – pencils and columned paper. Now, all workpaper files are electronic and accountants can perform their work virtually. The productivity gains have been incredible, and with a focus on data analytics and internal controls, audits are more efficient and effective. The profession has shifted to requiring stronger IT skills in addition to basic accounting and auditing skills.
What have been some of the highlights of your career so far?
I retired in September 2017 after 32 years with EY. Highlights include making partner in 1999, serving as the Raleigh office managing partner from 2009 through 2012, and serving as the coordinating partner on CSX in Jacksonville, Fla., a Fortune 250 rail-based freight transportation company.
In what ways have you been involved with the college and MAC Program through the years, and why is that important to you?
We have been involved since graduation by starting as small contributors and gradually building our philanthropy over the years. In 2001, we started a scholarship endowment to focus on MAC students. In addition to matching gifts from the EY National Foundation, Lori's employer, GE Mortgage Insurance Company, also provided matching gifts. Over the years, our annual gifts and endowment earnings have resulted in providing scholarship support so the college can attract and retain the best students. I also served on the Poole College of Management Board of Advisors for several years, including as chair.
You both have been longtime donors to the college and MAC program – why is giving important to you?
NC State provided us with skills that allowed both of us to have great jobs. We both feel strongly that public universities, in particular, provide opportunities for transformational changes in a person's life. We think it is critical to help students obtain an education and graduate with minimal student debt.
What made you decide you wanted to set up an endowment for MAC scholarships?
I (Mike) was awarded the Kevin Ihnen Memorial scholarship that paid my tuition and fees my senior year. It allowed me to graduate on time without having to take on any student debt. Loren and Shirley Ihnen, the parents of Kevin, who died tragically in an accident, set an example for me that had a profound impact on my views on philanthropy.
When you're not working, what activities do you enjoy doing?
We love to travel, hike, spend time outside with our dog, Baci, and follow Wolfpack athletics.
What advice do you have for Poole's current MAC students?
Take advantage of student organizations, speaker series, internships, exchange programs, etc. Be involved in student life on campus and get to know your professors. Join the student organizations that will allow you to meet professionals and learn about the accounting industry. Use these organizations to make important connections with recruiters. Start giving back to the university early in your career – make it a habit!