Jenkins Graduate Programs
Poole College Celebrates Jenkins Graduate Programs Class of 2022
Jenkins graduate degree recipients will walk across the stage this week at the hooding ceremony Thursday at 5 p.m. at William Neal Reynolds Coliseum. Graduating students will get hooded at the ceremony while their name is being announced.
By Jess Clarke
Poole College expects to award degrees to 242 students, including 121 Master of Accounting students, 109 Master of Business Administration students, three Doctorate of Philosophy in Economics graduates, eight Master of Economics students and one Master of Science in Economics graduate.
They have the ability to be innovative problem solvers that bring impact and change to industry. And they are ready to make a difference in the world around them.
"Our graduates are leaving Poole with not only new skills but a new mindset as well," said Frank Buckless, Stephen P. Zelnak Jr. Dean. "While at Poole, our graduates have learned to "think and do" differently. They are able to take the applications from the classroom and apply them to real world problems. They have the ability to be innovative problem solvers that bring impact and change to industry. And they are ready to make a difference in the world around them."
Graduates by the Numbers
242 Jenkins Graduates
Master of Accounting: 121
Master of Business Administration: 109
Doctorate of Philosophy in Economics: 3
Master of Economics: 8
Master of Science in Economics: 1

41% of MAC graduates come from other universities
PhD and Masters of Economics graduates hail from the U.S., Korea, Italy, China, Turkey and Vietnam
19 McLauchlan Fellow graduates from the MBA class
Here are spotlights on some of the graduates.
Progyamita "Reema" Bhattacharya, Jenkins MBA Program
In some ways, Progyamita "Reema" Bhattacharya is a different person than she was before she started the Jenkins Professional MBA program. Not only did the experience help shape her new career direction of working in the nonprofit world, but she knows herself — and her capabilities — better.
Just five months into her position as senior program manager for data analytics with the American Red Cross, the skills and knowledge she gained from the MBA program already are influencing her in the workplace.
"How I bring myself to the table is vastly different now than how I was before the MBA program," she says. "My energy is much more positive. I know how to build trust, show my abilities, develop a network, and communicate and talk with people."
She credits her data analytics and leadership courses, professor Donnie Hale's mentorship, and her involvement as a fellow in the Jenkins MBA McLauchlan Leadership Series professional development program with motivating her to redirect and revitalize her career.
Bhattacharya landed the Red Cross job with the help of the networking opportunities and the interview and resume-writing skills the Poole College of Management Career Center staff helped her develop. Previously, she worked in instructional design at the University of North Carolina-Chapel Hill.
Eventually she wants to use her MBA skills in a leadership position with the Red Cross. "The MBA has had a significant role in my people-skills development," she says. "I've worked on self-reflection and learned how to best use my strengths and get help where I know I have a weakness."
Chris Tandy, Jenkins MAC Program, On-Campus
When Chris Tandy started as a graduate teaching assistant (TA) in his first semester of the Jenkins Master of Accounting (MAC) program, he looked forward to mentoring undergraduate accounting students. He didn't expect to grow his support network along the way.
"I had no idea this would be the key to me gaining a large group of friends," he says. "Most of my friends have been TAs, and the group has increased to include others that are also in the program. We have been able to encourage each other, work together, meet up outside of class for social gatherings and go to football games together."
The connections Tandy has made with MAC students, faculty and staff are the best part of his experience in the program.
His relationships with MAC program director Scott Showalter and Jay Arrington, MAC associate director of admissions, have motivated and inspired him inside and outside the classroom. "Both men work tirelessly to create the best possible program for aspiring young accountants and do everything they can to help make our dreams a reality. The rest of the staff in the MAC program is fantastic, too," Tandy says.
He pursued the MAC concentration in enterprise risk management, which led to a full-time job offer from Ernst & Young before he finished the program. He'll start as an enterprise risk consultant in Charlotte in September.
"My graduate degree from NC State will set me apart from my peers based on the classes and experience I gained throughout the program," Tandy says. "I know from Day One I will be able to make an impact that will stand out to my peers and management."
Hunter Hall, Jenkins MBA Program
What Hunter Hall calls an "open-ended" approach to business and a focus on innovation in the Jenkins MBA program fit well with her entrepreneurial mindset. "It's less about what to think and more about how to think. That's invaluable for anything you do in business," she says.
The program's flexibility has allowed her to explore different directions for her business career. "There's room for less-traditional classes with the MBA. It's not just focused on finance. There's an emphasis on critical-thinking skills and big-picture thinking," says Hall, who pursued concentrations in marketing and innovation management.
Through the big-picture approach, she gained a variety of competencies.
She graduates with more than the hard skills employers demand, including data analytics, market research, and programs such as Tableau's data visualization and SPSS's statistics software. Important soft skills round out her education: "influencing people, telling a story in a compelling way…understanding consumer behavior to market to consumers better," she says.
Hall, a full-time student, also leaves Poole with useful takeaways from case studies her classes analyzed that focused on business problems at real companies.
Outside the classroom, the Poole College of Management Career Center provided support with interview preparation and, when she received a job offer, with salary negotiation.
It worked. Hall leveraged a summer internship on Lowe's e-commerce team into a full-time senior analyst position there that she'll start in July. "Any time I had a question," she says, "the career center was ready to help me out."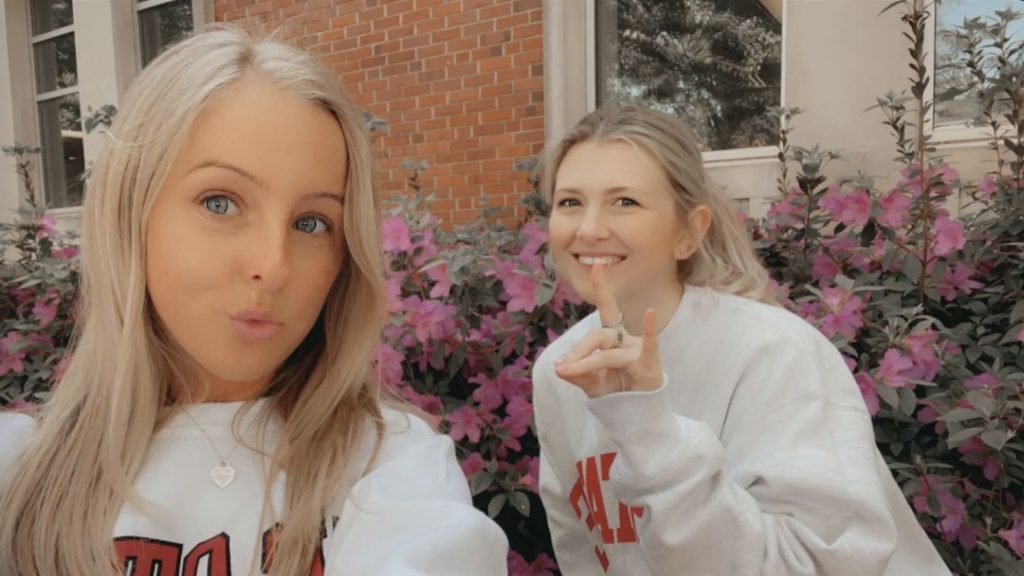 Jillian Caffey, Jenkins MAC Program, On-Campus
Jillian Caffey gained valuable skills from the hands-on, practical experiences she had in the Jenkins Master of Accounting (MAC) program.
One highlight was her Enterprise Risk Management practicum class with professor Mark Beasley, director of the Poole College Enterprise Risk Management Initiative. Her student team worked with Syneos Health in Morrisville, North Carolina, interviewing executives about risks to the organization's success.
"Dr. Beasley has a passion for teaching and his profession that you don't see very often, and I learned so much from the practicum and working with him," Caffey says. "In other classes, I enjoyed how all the topics and case studies we learned from could translate directly into real-world situations and did not seem like useless textbook knowledge."
The MAC program prepared Caffey well for the CPA exam and her full-time position as an external audit associate with PricewaterhouseCoopers, where she'll start in the fall. She credits the program with helping her get the job offer.
At Poole, "I love that there is a focus on job placement post-graduation and that the success of the student after completing their degree is a major concern for the staff," she says.
Brooks Jordan, Jenkins MBA Program
Building relationships has been crucial in Brooks Jordan's experience in the Jenkins Professional MBA program — with students in classes and as a liaison between peers and administrators in Poole's Professional MBA Delegate program.
Jordan has taken online courses while working full time as a nonclinical operations specialist at BioCryst Pharmaceuticals in Durham. Talking with peers online at their homes during classes made it easier to form bonds. "We saw people's kitchens. We saw kids in the background," Jordan says. "Making that human connection in an online setting is so important."
His experiences in the MBA program enhanced the connections Jordan made in interviews for his BioCryst position — which ultimately led to a job offer last September and helped him negotiate a salary. "My employer was very impressed," he says. "They asked, 'What are you going to bring to us from the MBA program?' I was ready to tell them."
It wasn't just being in the MBA program that impressed BioCryst. It was the skills he gained in the program. "Every university on this planet will sell you an MBA. It's good to have NC State, which will make you earn it," says Jordan, who earned a bachelor's degree in molecular biology at NC State in 2016.
"I think most Jenkins MBA students would say they gained quite in excess of the value of what they put out," he says. "It was absolutely worth every penny."
Schuyler Putt, Jenkins MBA Program
As Schuyler Putt finishes the Jenkins Professional MBA program, he's focused on moving into a leadership position at John Deere, where he is a product engineer in Fuquay-Varina, North Carolina. "I want to move into growing the talents of others, and the MBA absolutely accelerates that," he says.
First, though, he had to grow his own talents — through the MBA program.
A practicum at Eaton Corp. gave Putt the opportunity to apply what he learned in his data analytics courses. His MBA team created an algorithm, which updates itself, to generate six months of predictions for demand of an Eaton product.
The practicum exemplifies Poole College's hands-on focus. "The MBA courses take a practical rather than theoretical approach to business," Putt says. "It's more about what to do with the information we learn, how to apply it."
In addition to his MBA degree, Putt earned Poole certificates in business analytics and marketing. "They really round me out…and formalize my business skills," he says. With the current marketing case studies he learned about and the analytics tools he used, "Having that experience makes me a lot more credible advancing in the workplace with an MBA."
Putt's workplace advancement also will be boosted by what he gained in the Jenkins MBA McLauchlan Leadership Series professional development program, for eligible students who apply. "It was great to be with the most motivated and talented people," he says. "I got a lot out of it about communication and the soft skills and personal perspectives around leadership."