Students and Alumni
Poole Team Finds Success at Prestigious Heavener International Case Competition
By Lea Hart
A team of four students from the Poole College of Management recently competed against 18 business schools from around the world at the 2023 Heavener International Case Competition, hosted by the University of Florida.
The competition is among the most prestigious of its kind. The team of students, Emma Collins (Business Administration, Marketing '24), Federica Lenti (Business Administration, Finance '23), Ben Poovey (Business Administration, Finance '24) and Dan Webb (Business Administration, Marketing '23) had the opportunity to problem-solve for real businesses including Proctor and Gamble, among others.
The team, led by faculty advisor, Pieter Verhallen, teaching assistant professor in Marketing for the Department of Business Management, placed second in their division
"I was very impressed with our team and very proud," Verhallen said. "These competitions are challenging – it takes a lot of grit, teamwork, positive energy and talent to perform well under those conditions."
Preparation Under Pressure
This was Poole's first time sending a team to the Heavener competition and the group didn't have a lot of time to prepare, Verhallen said.
The team was initially on the waitlist and had just a few weeks to train once they found out they were selected to attend.
"This is one of the 12 best competitions in the world," Verhallen said. "Students winning these competitions go on to the world championship that takes place in New Zealand."
Three of the four Poole students were selected by Verhallen during the fall semester to compete in a virtual case competition event based in Portugal, Webb said. One of those team members couldn't go on to compete this year, and Lenti then joined the group.
Each member brought their own unique skill set to the table and the group found a working style where their skills complemented each other and helped bring them together as a team, he said.
With just a few weeks to prepare, Verhallen said everyone buckled down and spent as much time as they could training with his guidance, often giving up their evenings and weekends for the work.
There was a purpose, and everyone was motivated and it paid off.
"There was a purpose, and everyone was motivated and it paid off," he said.
When the competition arrived, Webb said not every school they were up against had heard of Poole College or knew what to expect from the team, but "about half way through the competition, they definitely saw us as adversaries."
The Competition
The competition itself featured live cases from three companies, Verhallen said. The cases provided an actual snapshot of the company at the time, along with one or more issues that needed to be resolved.
Each team is sequestered as it works through a case, he added. Teams don't speak to other teams or their advisors, and have a set period of time to come up with solutions and recommendations. They must craft a persuasive analysis during that time and be ready to present to a boardroom of judges by the end of the time period. Those judges include actual company executives.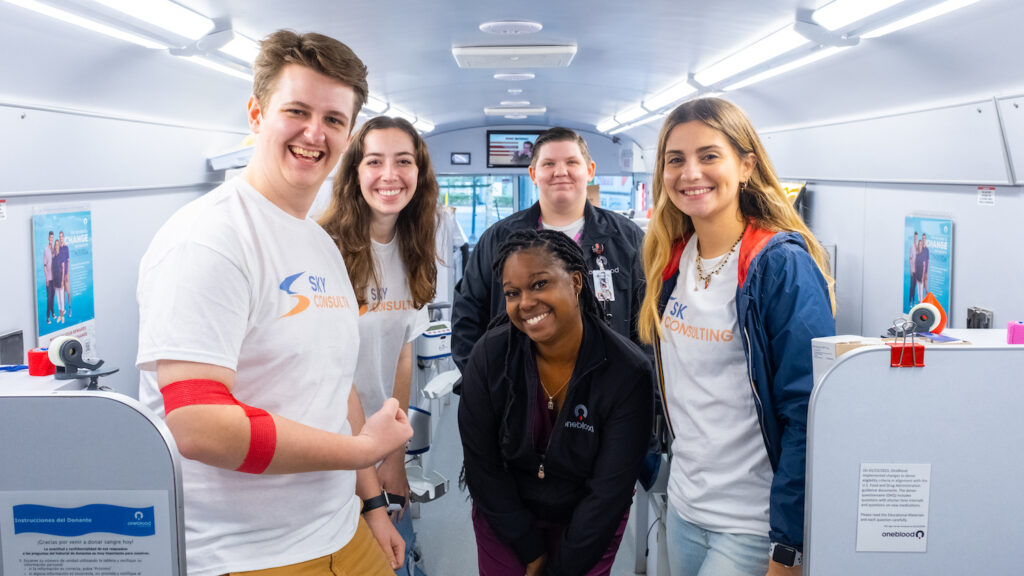 The first case involved OneBlood, a blood donation nonprofit looking to increase its number of repeat donors and to drive donations without a financial incentive, Webb said.
The team knew this organization would be a participant ahead of time and had time to prepare beforehand, Webb said. They visited a OneBlood donation bus upon arriving in Florida, interviewed the staff, and Webb donated blood.
"We got to see the entire customer experience," he said. "We could identify pain points and issues there; specifically things that OneBlood management had acknowledged but never seen a proposed solution for."
While each case had a time cap, not all were the same. Webb said the group had 12 hours to work through the OneBlood case.
They then moved on to a case for etectRx at UF Innovate, where they were given four hours to work on a go-to-market plan for etectRx, before again presenting to a boardroom of judges.
They were not given any advance knowledge of what organization their final case would involve. It turned out to be Proctor & Gamble, the largest consumer goods company in the world.
Given 16 hours for that case, the team was asked to pitch a two-year marketing plan for a brand the company had recently acquired, Zevo, which specializes in products such as insect repellant and insecticides that are safe for humans and pets, Webb said.
The team went as far as to order some Zevo products to be delivered to their hotel rooms as they worked on the case, Webb said.
"We wanted to get hands-on with the product," he said. "When you have more data, it's easier to make decisions without assumptions."
We wanted to get hands-on with the product. When you have more data, it's easier to make decisions without assumptions.
As they finished the third case, the Poole team felt they had a strong chance of winning. In the end, they came in second, however, Verhallen was quick to note that so many positives came out of the experience and the top two teams in the division were really neck-and-neck.
"Their performance was at the same level as the team that placed first," he said.
Competitions such as this one are a win for students, the college and university, and the companies who participate, Verhallen said.
Poole students had the opportunity to put NC State's Think and Do mentality to work and benefit from real-world, hands-on, experiential learning.
"These case competitions give students a great opportunity to apply theory in practice in front of real companies on real issues," Verhallen said. "These are also the top business schools from all over the world, and the very best students from these universities – it's a great networking opportunity for the students, and a great opportunity to network with eventual employers."
At the same time, competing in events such as this one raises the profile of Poole College and NC State, and allows for fruitful relationship-building between current and future partner institutions, he added.
Finally, the companies and organizations who participate come away with dozens of new perspectives that they can apply to their business plans moving forward.
Looking to the Future
Verhallen joined Poole College in 2021, coming from the Netherlands where he had extensive experience coaching teams to take part in international case competitions.
Since arriving at NC State, Verhallen said he's worked to build a plan to prepare students and train them in advance for big competitions such as the Heavener competition, giving students the opportunity to compete against other students from around the world.
He hopes the Poole team's success in Florida will build momentum for students to participate in future case competitions.
"I'm a big advocate of getting this set up at NC State," Verhallen said. "Everyone I've spoken to has been supportive."
The concept fits well with the Poole 2030 strategic goals, Webb pointed out, empowering students for a lifetime of success and impact (Goal 1) and elevating the national and global reputation and visibility of NC State (Goal 7).
Webb said he sees the long-term impact of building out a case competition team, supported by the college. He said Verhallen will be the catalyst with his experience in international case competitions.
"We were up against students who had trained like it was a part-time job, and we were bootstrapping," Webb said. "While I am graduating soon, my vision for a case competition team at NC State would be for it to be a full program that has many members and is supported by the college directly."