Business Management
BSC Director Jessica Thomas honored for teaching business as a force for good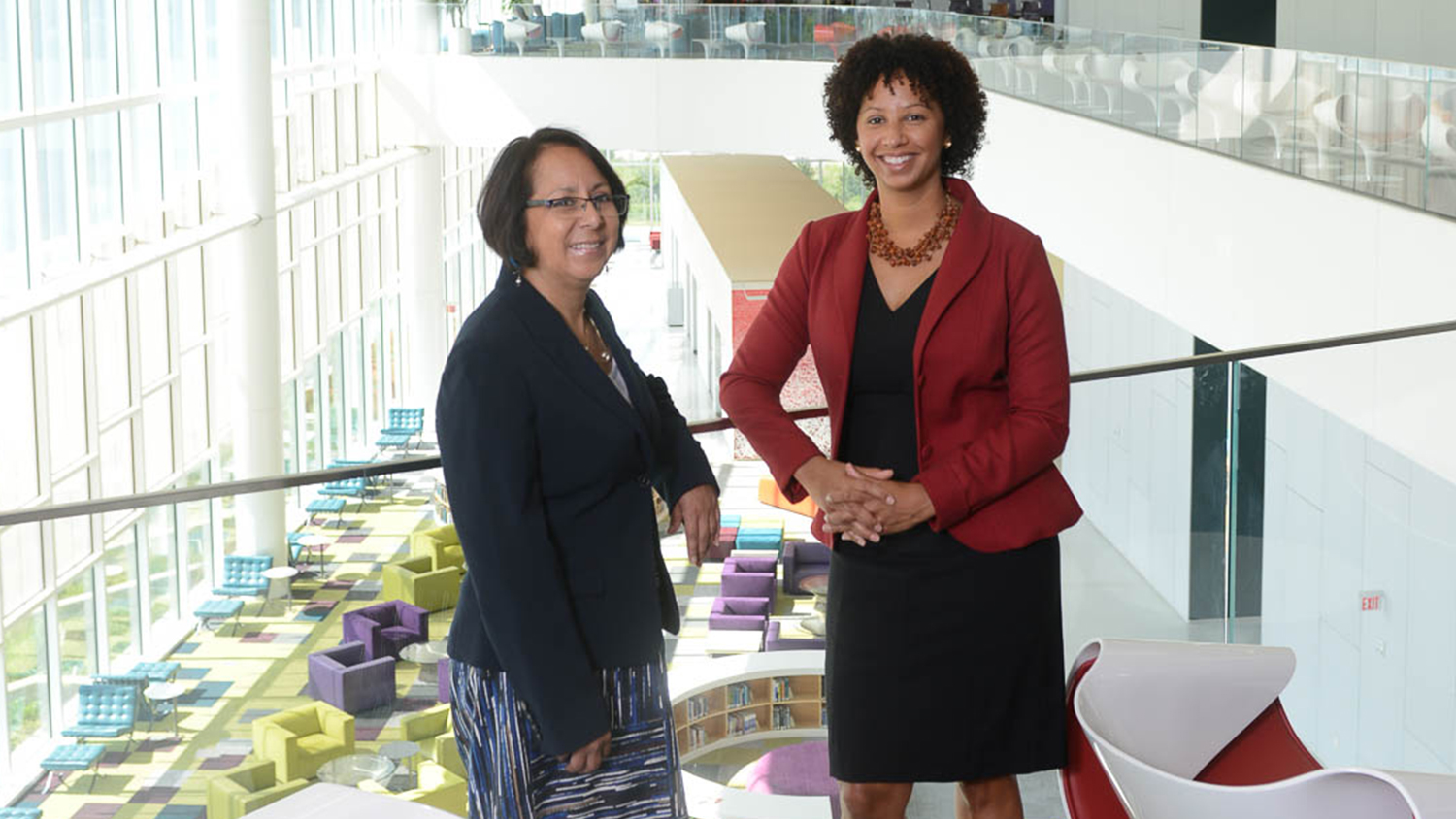 Jessica Thomas, director of the Business Sustainability Collaborative and lecturer at NC State University Poole College of Management, was awarded the Bill Clark Award at the 2016 B Corp Champions Retreat held October 18-20 in Philadelphia, Penn.
The award recognizes an individual outside of a certified B Corp who has done the most to support the global B Corp Community. It was named for Bill Clark, the attorney who drafted the model legislation that has now been used to pass for-benefit legislation in 32 states.
B Corporations are for-profit companies certified by the nonprofit B Lab to meet rigorous standards of social and environmental performance, accountability, and transparency. There are close to 2,000 certified B Corporations around the world with one shared vision: to use business as a force for good.
The award recognizes Thomas for "her incredible leadership in the B Corporation movement," the NC B Corp Champions stated in a Facebook post announcing the award. It also states, "She has been helping to scale the B Corp Clinic to train a new generation of leaders while also empowering companies to improve their impact."
"I am honored to accept the award in recognition of the collaborative work we are doing across NC State University and across North Carolina," Thomas said.
Thomas runs the B Corp Clinic in collaboration with BSC Faculty Director Rosanna Garcia, Ph.D., Innovation + Design Cluster professor in Poole College's Department of Business Management, along with the undergraduate and graduate NC State Net Impact chapters and HQ Raleigh.
"I believe the B Corp Clinic aligns with the NC State University mission by supporting sustainability across the campus," Garcia said. "It is a good model for experiential learning."
It also has proven to be a good model for outreach and engagement, as it brings together students from across NC State University as well as Duke University and the University of North Carolina at Chapel Hill to work with aspiring B Corp companies on the assessment process, she said.
Thomas uses the B Corp Assessment in her teaching at the undergraduate and MBA level at Poole College, connecting students to the aspiring B Corps for experiential learning.
Teaching Business as a Force for Good, Locally and Globally
Thomas also is helping to build a global community of academics who are "teaching business as a force for good." At Poole College, BSC awards faculty grants for new lines of sustainability research within the researchers' disciplines and to develop teaching modules that the faculty incorporate into existing coursework.
Thomas and Garcia are working with Craig Dalen, lead of the B Corps on Campus Initiative at B Lab, to connect faculty who are teaching and conducting research about B Corporations in higher education, and to engage students in helping companies measure and improve their social and environmental impact with the B Impact Assessment. The B Corp Academic community recently met at Wharton Business School to share best practices and discuss opportunities for collaboration.
In the past year, Thomas and Garcia have also been active in the NC B Corp Movement as part of the Growth Committee, a team of NC B Corp champions working to support the pipeline of aspiring B Corporations. The Growth Committee was initially organized as part of a broader campaign to bring the 2016 B Corp Champions Retreat to the Triangle. While successful in their bid, the B Lab moved the event to Philadelphia, which the organization reported was better aligned with the B Corp commitment to diversity and inclusion.
Thomas and the Growth Committee continue their work in supporting the NC B Corp Movement through a series of B Corp 101 and Hackathon events as well as collaborating on the B Corp Clinic.
"I'm confident that one day soon we'll welcome the B Corp Champions Retreat to the Triangle, where we can showcase to the world the collaborative and impactful community that we're building," said Thomas.
Inspiring Examples
Thomas was first introduced to B Corporations when she hosted a talk on the topic at Kenan-Flagler Business School at UNC-Chapel Hill, where she previously served as managing director of the Center for Sustainable Enterprise.
Bart Houlahan with AND1, a sports and apparel company, shared his story about how his company was sold and the new owners stripped away the programs put in place to benefit employees, overseas workers and the local community. After that experience, Houlahan along with Jay Coen Gilbert and Andrew Kassoy, built B Lab, to develop "a legal framework to help social ventures grow while maintaining their original mission and values, and credible standards to help them distinguish their businesses," according to The B Corp Handbook.
Thomas said she was "blown away" by Houlahan's speech, and began to use the B Corp assessment as a tool to assess the progress of companies going through the Business Accelerator for Sustainable Entrepreneurship (BASE) program at Kenan-Flagler. She joined the NC State Poole College in 2013 as director of the college's new Sustainability Initiative, which was relaunched as the Business Sustainability Collaborative in 2015. She also joined the college's faculty as a lecturer in the Department of Business Management the same year.
Thomas' passion for sustainability reflects that of her parents. Her father, Adebisi Emmanuel Babatunde Thomas, was an economist, professor and nonprofit leader from Nigeria, and had a lifelong dedication to using science and technology to drive positive global change. He served as coordinator of the United Nations Secretary General's Special Initiative on Africa and was a United Nations Development Program Resident Representative in Kenya and Uganda.
Growing up in West Africa also helped to shape Jessica Thomas's perspective on the role of business in driving global social and environmental change. She says that B Corporations are one of the most innovative ways she has seen to transform how businesses operate in a way that makes the world a better place for everybody, and brings that passion to her work with her students at the B Corp Clinic.
More than 60 students have worked on semester-long consulting projects ranging from strategies to reduce a company's environmental footprint to developing policies regarding employee engagement, diversity and supplier codes of conduct. Since its launch in 2015, the B Corp Clinic has worked with 16 companies ranging from start-ups to major corporations like Red Hat.
Kaley Moffit, a Poole College junior majoring in marketing and a BSC Associate working with Thomas, said, "Learning about B Corporations through the B Clinic has helped change my perspective about who I want to work with." She also said that she believes "Ideas are nothing unless you are communicating them to someone else." In her role at the BSC, she has been helping to get the word out to other students about the BSC.
Read more about B Corporations and a history of the b-corp movement.