Students and Alumni
Poole College of Management Celebrates Summer and Fall 2020 Graduates
As 2020 comes to a close, Poole College of Management recognizes and celebrates the accomplishments of our summer and fall graduates. Learn more about our graduates across our programs.
Poole College of Management's class of 2020 have been challenged every step of the way during their final year at NC State in and outside of the classroom. Our students have persevered through it all and come out on top as they look towards their future professional careers.
"I am inspired by the commitment and resilience our graduates have shown over the last year to achieve this major accomplishment. I look forward to learning how our graduates apply their entrepreneurial mindset and analytical problems solving skills to make a positive difference," said Frank Buckless, Stephen P. Zelnak Jr. Dean.
Fall and Summer Graduates By the Numbers
101 Jenkins MBA Graduates
17 Jenkins Master of Accounting Graduates
48 Global Luxury and Management Graduates
373 Undergraduate Student Graduates
The undergraduate class includes 64 accounting, 290 business administration and 19 economics graduates. The business administration majors were made up of 19 entrepreneurship, 71 finance, 7 human resources, 6 information technology, 16 marketing and 41 operation and supply chain graduates.
17 Master of Economics Graduates
1 Master of Science in Economics Graduate
13 Doctorate of Philosophy in Economics Graduates
Meet Our Gradutes
Emily Johnson, Business Administration, Fall 2020
Emily Johnson refers to Poole College as a family and is thankful to her time walking the halls of Nelson Hall for giving her some of her best friends and great memories. Johnson transferred to Poole College during her sophomore year and will be graduating with a bachelor's degree in business administration with a concentration in marketing this fall.
"My biggest lessons have been in resilience and knowing that hard work pays off. If you set your mind to something and work for it, truly anything is possible," said Johnson. "Make the most of all that Poole and NC State offer and you will learn so much about yourself and become a better version of yourself."
Johnson was involved with Consult Your Community, a non-profit organization utilized to solve problems for small businesses, during her undergraduate career. Post-graduation, she will be working for SAS in their marketing associates rotational program.
Madelyne Paulk, Global Luxury and Management, Fall 2020
Though her time on NC State's campus was cut short, the community in Poole College and in the GLAM program has left a lasting impression on Madelyne Paulk, a fall 2020 graduate. Her peers, faculty and administrators all challenged her as a professional, think differently and open her eyes to new possibilities.
Following her completion of the GLAM program this fall, Paulk will be working as a marketing associate for Jet IT, a private aviation company co-founded by GLAM Industry Advisory Board member Glenn Gonzales.
"Exploring different subjects, ideas, people, places, and even parts of yourself. It is important to have these discoveries as they shape us and where we hope to go in the future," said Paulk. "Poole and NC State provide numerous resources to aid students in those discoveries. In summary, I encourage students to explore, discover who they are, utilize the resources, take advantage of opportunities, and have fun in the process."
Jose Perez, Global Luxury and Management, Fall 2020
Jose Perez spent his year in the Global Luxury and Management (GLAM) program at Poole College, in Paris at the SKEMA School of Business and traveling to New York City as a part of a study trip visiting industry professionals from the Luxury Institute, Christofle, Chanel and Nordstrom.
"I knew this program would provide me with the skills, knowledge and experiences I desired in order to pursue a career in the luxury industry," said Perez. "I managed to make friends from different countries, explore the world and secure a position with a company I've always admired."
Following graduation, Perez will be relocating to Miami, Florida, to continue working with Louis Vuitton, the luxury brand he spent six months interning with. Despite the unprecedented pandemic, Perez says he is grateful to the GLAM program for continuing to care about his future in the luxury industry.
Chandler Carr, Business Administration, Summer 2020
Chandler Carr has long been connected to the Poole College of Management as his father, Jon Carr, is a professor of entrepreneurship and current department head. However, Carr made his mark majoring in both operations and supply chain management and entrepreneurship during his undergraduate career.
"I have had many great classes at Poole, however the most rewarding and enjoyable experience was the supply chain practicum course offered by the Supply Chain Resource Cooperative at NC State," said Carr. "I also give an honorable mention to my time in the Entrepreneurship Clinic."
Carr's advice is to be open to all concentrations the college offers and join a practicum course to broaden your perspectives.
"I thoroughly enjoyed both the supply chain and entrepreneurship practicums I was a part of as it helps give you a real-world application to concepts you learn in the classroom. It also helps teach you how to effectively work together in teams to achieve project objectives," said Carr.
Maria Gonzalez, Jenkins MBA Program, Fall 2020
Maria Gozalez is the youngest of nine siblings and a first-generation college student who will be completing her Master of Business Administration this fall. Not only was she a student, Gonzalez was the primary caregiver for her mother.
"Earning an MBA was not an easy task but was attainable with the right level of support, not only from family, but from my managers, colleagues, classmates, faculty and staff," said Gonzalez. "The continuous level of commitment exhibited by the faculty and staff of the Jenkins MBA program to ensure my success as a working adult, parent and student is remarkable."
Sixteen months ago, Gonzalez accepted a position with a transportation and logistics company that supports the Disaster Recovery and Business Continuity Program. She is in a role focused in information technology, which has been a shift in her career.
"Poole College allowed me the opportunity to work with very diverse and intellectual teams who helped me understand business ideas and strategies from different perspectives. This experience has been a huge benefit to my current role because I work in a very diverse organization and have been able to apply my lessons learned in my current capacity," said Gonzalez.
Kenneth Rhone, Jenkins MBA Program, Fall 2020
Being admired for your mental toughness and business abilities as result of being a part of the Poole College is something Kenneth Rhone greatly appreciated during his time in the Jenkins MBA program.
"I remember when I joined my classmates in the fall semester of 2017, I had a lot of questions for the faculty and staff about how to be a stronger leader; how to conduct world class analytics; how to successfully create, market, and sell my own products; and, most importantly, how do I utilize accounting and financial skills to improve margins," said Rhone. "Today as a graduate of Poole College I am confident to say that I have all my questions answered and I am ready to lead."
During his time in the Jenkins MBA program, Rhone participated in the annual National Black MBA Association conferences with fellow classmates where he had the opportunity to connect and collaborate with other students across the country.
Jon Schmidt, Jenkins MAC Program, Summer 2020
Jon Schmidt and his wife moved to Raleigh, North Carolina, from Winepeg, Canada, in May 2019 where he began his journey at the Poole College of Management.
"I remember feeling so overwhelmed at orientation after the previous students shared about their experience: how hard they worked, how they managed their time and how organized we would need to be to stay afloat," said Schmidt. "That being said, what I appreciate the most about the MAC program is how stretching it was. I don't think I was the only student who left the program realizing I was capable of much more than I previously believed."
Schmidt utilized his time at NC State taking advantage of opportunities the MAC program had to offer and becoming a graduate teaching assistant for Roby Sawyers, professor of accounting. Hi group work also allowed him to bond and network with student from a variety of backgrounds.
Schmidt has now relocated to Charlotte after accepting a position with PricewaterhouseCoopers, a multinational professional services network, following his graduation over the summer.
Leon Krapf, Business Administration, Fall 2020
Leon Krapf spent his time at Poole College balancing his studies business administration with a concentration in finance and minor in accounting and a spot on the NCAA men's soccer team. Despite his busy schedule, Krapf developed his leadership skills, critical thinking capabilities and adopted an international perspective and made time to complete the Business Analytics Honors Certificate.
Krapf will be continuing his education at Poole College in the Jenkins MAC program beginning in January while completing his last season of eligibility in the NCAA. He has hopes for a career in either professional sports as a soccer player or in the financial industry as a consultant or banker.
"I would recommend future students to make a conscious effort to branch out in terms of meeting new people. Poole is so diverse and international, some of the most important lessons I did not learn in class but from friends that have a different background than me," said Krapf.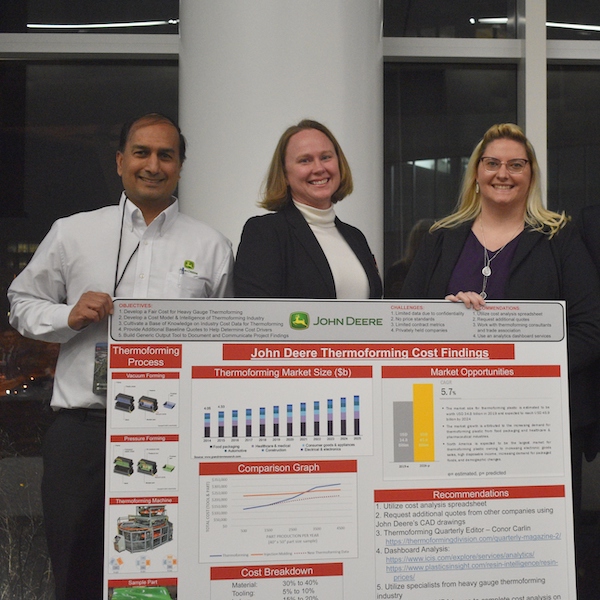 Danelle Cutting, Jenkins MBA Program, Summer 2020
Ten years after earning her bachelor's degree, Danelle Cutting decided to further her higher education by enrolling in the online Jenkins MBA program.
"I was definitely nervous starting college all over again especially because it had been almost 10 years since I received my bachelor's degree but my experience at Poole was fantastic," said Cutting. "I felt each course was challenging in its own way but the opportunity to work with students across North Carolina and the U.S. was such a great experience for me and really made my time during the program go by so fast."
Cutting's most memorable moment was winning second place in the MBA 541 class poster contest for John Deere Company. She said it was fulfilling tackling difficult tasks and being recognized for hardwork.
"Don't be afraid to work in teams, ask questions in the forums and be willing to be paired up with different classmates," said Cutting. "I met some amazing people that I can call my friends and they are wonderful to network with."
Peter Tian, Jenkins MAC Program, Fall 2020
Peter Tian found himself facing real-world challenges during his time in the Jenkins MAC program through his courses and group projects. Completing presentations as a team strengthened his collaborative and communication skills as well as expanded his professional knowledge.
The past year in Poole College taught me a lot of professional knowledge and enriched my perspectives. As a teaching assistant, I loved spending my time with undergraduate students and helping them on their academic journey," said Tian.
Tian's advice to future MAC students is to be good team players and support one another. It's clear that communication skills will be vital in your career and the MAC group work will leverage personal skills and create a well-rounded professional.
Austin Fishel, Jenkins MAC Program, Summer 2020
Although now working in the audit field for Cherry Bekaert in Raleigh, Austin Fishel came to Poole College seeking a career change from education. He appreciated the faculty and staff taking a chance on someone without an accounting background and grew as a professional under their wings.
"One of the experiences I am so thankful for is the Meet the Firms event that the program puts on in order to help connect students with over 20 employers," said Fishel. "Coming back to graduate school I wanted to further my education, but the available employment opportunities was a major draw to the MAC program alongside their commitment to placing all of their students in a great career path."
Fishel's best advice to prospective students is to invest in the friendships you make along the way as they will benefit you as a person and a professional long-term.