Faculty and Staff
Poole College Welcomes New Faculty
These eight new faculty members are highly regarded in their fields, with experience in academic research, teaching and industry.
Poole College of Management welcomes eight new faculty members to Nelson Hall for the 2023-24 academic year. These talented faculty are highly regarded in their fields, with experience in academic research, teaching and industry.
Eiman Aiyash
Lecturer | Department of Economics
Eiman Aiyash recently completed her Ph.D. in Economics at Kansas State University. Prior to her doctoral studies, Aiyash earned both her BA and MA in Economics from Damascus University as well as a second MA in Economics from Eastern Illinois University.
Aiyash is a highly decorated scholar with several awards for her research and teaching. She has been the recipient of the Graduate Student Award at SEA Conference and the Best Research Paper Award in 2022, Emerson Award and Thomas Teaching Award in 2021, and many others.
While her main interests are in macroeconomics and monetary economics, financial and international trade economics, econometrics and environmental sustainability, Aiyash has collaborated with research in other areas such as governance, crimes and abortion, shocks spillover, and oil and exchange rate pass-through.
Aiyash says she is proud to be a part of Poole College's exceptional education environment.
Carly Burd
Assistant Professor | Department of Accounting
Carly Burd comes to NC State Poole College from Boston University, where she spent five years as a Ph.D. student and received her doctoral degree in accounting in May of 2023. Prior to beginning her doctoral studies, Burd worked in mergers and acquisitions tax in PwC's Boston office.
Burd received both her BA in Accounting and Master in Accounting: Taxation from University of Tennessee-Knoxville. Her research and teaching interests focus on corporate taxation and trade policy.
"During my campus visit last fall, it quickly became evident that Poole provides a supportive community to both students and faculty," she says. "I really appreciate the effort that Poole makes to connect with industry through both programs and research."
Charlie Clarke
Assistant Professor | Department of Business Management
Charlie Clarke joins Poole College after serving as Assistant Professor of Finance at University of Kentucky. He has completed several working papers; his paper, "The Level, Slope and Curve Factor Model for Stocks," is published in the Journal of Financial Economics and received the Best Paper Award in Investments in 2015 from the Financial Management Association.
Clarke's research interests include investments, empirical asset pricing, macro finance and factor models. He received his BA in economics at College of William and Mary then went on to receive a Master of Science in economics at University of Texas, Austin, before completing his Ph.D. in Finance at University of Connecticut.
Clarke says he was attracted to Poole College "because of its high caliber team of faculty and the vibrance of the Triangle."
Filomena Garcia
Associate Professor | Department of Economics
Filomena Garcia is an economist with a specialization in industrial organization and game theory. She is particularly interested in understanding the links between competition policy, digitization of markets and environmental policies.
She earned a Ph.D. in economics from Université Catholique de Louvain in 2005, an MS in philosophy from University of York in 2002, an MS in economics from Universitat Pompeu Fabra in 2001, and a BA in economics from Universidade Nova de Lisboa in 1996.
Garcia was attracted to the Poole College of Management for "its focus on interdisciplinary work and the close relationship between the college and the surrounding thriving economic area," she says.
She has lived in the U.S. for 12 years, working at Indiana University, and moved to the Triangle in 2021.
"I am excited to start this new journey," Garcia says. "I love basketball, and I am proud to be a supporter of the Wolfpack women's basketball team."
Andrew Greenland
Assistant Professor | Department of Economics
Andrew Greenland joins Poole College after serving as an associate professor of economics at Elon University. His primary research is in international economics, where he studies the effects of international trade policy on the U.S. economy.
Greenland graduated from Miami University (Oxford, Ohio) in 2008 with bachelor's degrees
in mathematics and in economics. He graduated from Purdue University with a MS and Ph.D. in economics in 2013.
He chose Poole College for "the opportunity to join a great set of colleagues here in the Triangle."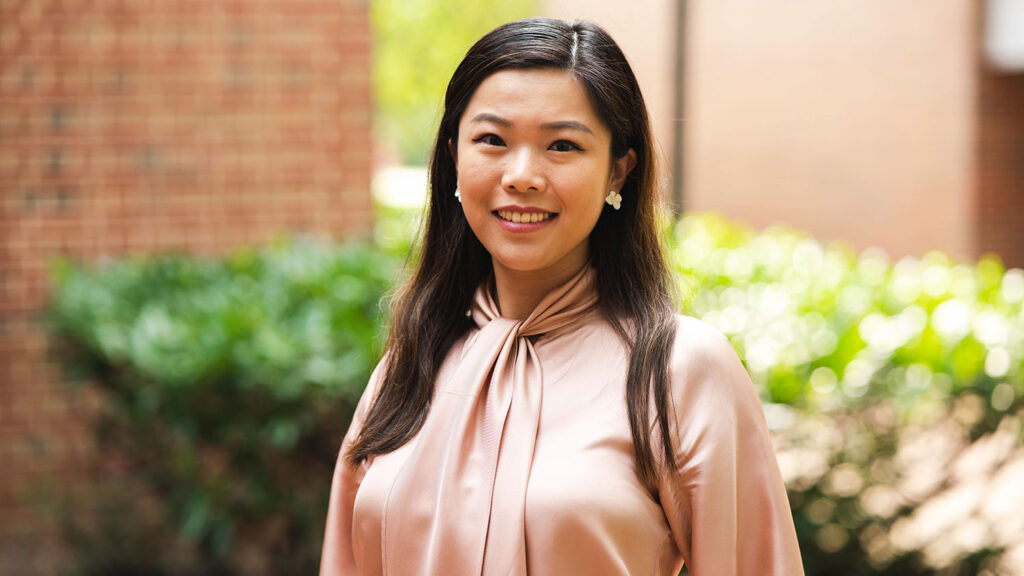 Dora Horstman
Assistant Professor | Department of Business Management
Dora Horstman comes to Poole College with a research background in institutional investor behavior, stock market efficiency and its impact on the real economy.
Prior to completing her Ph.D. in finance at Texas A&M University in 2023, Horstman earned a BA in economics from Shandong University and a MS in finance from Case Western Reserve University.
"Poole College of Management offers an excellent platform and environment for conducting advanced research. I am very excited to work alongside my passionate colleagues who are eager to delve deep into their areas of interest."
Onkar Malgonde
Assistant Professor | Department of Business Management
Onkar Malgonde has a background in both the academic and technical fields. After working as a systems engineer with Infosys Technologies, he went back to school to receive his MS and Ph.D. in information systems from the University of South Florida. Prior to his Poole College position, Malgonde held faculty positions at both Northern Illinois University and the University of North Texas. He was attracted to Poole College because of its emphasis on research and excellent students.
"Poole offers a perfect blend with its focus on research, commitment to student excellence, and collegiality of faculty and staff," he says.
Malgonde's work has been published in several journals such as MIS Quarterly, Journal of Management Information Systems, Empirical Software Engineering, and Electronic Markets, and in the proceedings of premier Information Systems conferences and workshops. His research interest is an intersection of digital platforms, recommender systems and software systems.
Wayne Thompson
Professor of Practice | Department of Business Management
Wayne Thompson joins Poole College with over 30 years of experience in business analytics at SAS and JP Morgan. He is one of the early pioneers for business predictive analytics and is highly regarded across the world as a teacher and innovator of predictive analytics technology.
Thompson received his Ph.D. and MS degrees from the University of Tennessee and was a visiting scientist at the Institut Supérieur d'Agriculture de Lille, Lille, France during his Ph.D. program.
As professor of practice, Thompson says, "I am looking forward to the opportunity to teach analytics, work with students and collaborate with members of the business management department."